The Blook Is Stuck… Between A Rock and A Hard Place!
Bangkok, 15 December 2015, 09:28
This morning was filled with activity and more paperwork than any toilet sees in a year! …Ok, I am exaggerating, a little (lol)
Since my visa in Thailand is a visitor/tourist visa, I am required to visit the local immigration offices every so often. Besides that, I am also forced by laws to exit the country after every 90 days, to return and start the whole process again…. If it doesn't make any sense, join me on the clueless bench so we can chat about something realistic.
Despite my best efforts at getting contributions / benefactors (X-Mas edition from yesterday), I am not a great marketer and my WordPress account has run out of space. I am not even sure I will be able to post today's efforts. My email account can hold over 50GB but my blook only slightly more than 3GB…Not fair!
A visit to my WordPress admin panel showed me an alarming sight.
I am out of storage space!
If I sound desperate in writing the following sentence, it is probably because I am…desperate, that is!
If there is ANY way in which you can help me get an upgraded WordPress, please do! I have an IndieGoGo campaign that will allow you to contribute ANY amount. No matter how small the contribution, it will help!
This book will get written, with or without access to WordPress. It is something that HAS to be written, even if just for the sake of ONE person having the benefit of my many…MANY mistakes in life and not making the same one's. Doing some of the writing here, offers you the reader, a chance to take part in that 2 year journey and even become a part of the book. The Blog is free to read and will remain so, for as long as I don't have a publisher (They usually want to make some $$ out of it, rightfully so)
From the many emails (now about 170) I have received about my BLOOK (Blog and future Book), I have had praise, criticism, advice, anecdotal sharing, questions, and even a "weird proposal" that I don't care to share here because it's simply disgusting!
Besides that I received a 1 dollar contribution. A Dollar is also money and I do appreciate it. That particular dollar even had the important function of "breaking the ice"
As I continue to write my book, I hope you will understand my predicament and not be too angry that the writing doesn't appear on the blog… I just don't have the funds to buy an upgrade… sorry. My apology is sincere and heart-felt.
If I don't have any benefactors, I shall not be able to post the chapters and updates here. That will make some people happy, as they try and find ways to stop me from publishing. – That being said, I have saved about 2 Terabytes of information in (free) places that will safeguard them and also ensure their dissemination, should I pass to "greener pastures"…
For now, I bid all my readers a fond farewell. In the event of not be able to get back to blogging…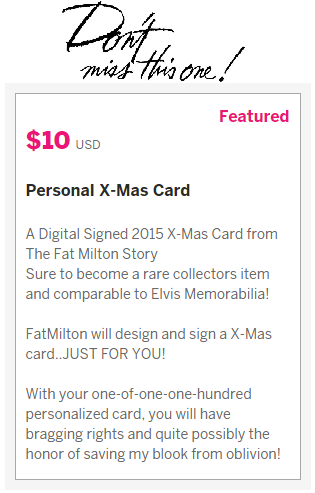 Thank you for your contribution, I wish you and your dearest ones a Happy, Healthy and a 
Brightly

–

Coloured

–

Wrapping

–

Present

–

Filled

–

X

–

Mas
May 2016 be YOUR year of fulfillment and family bliss!